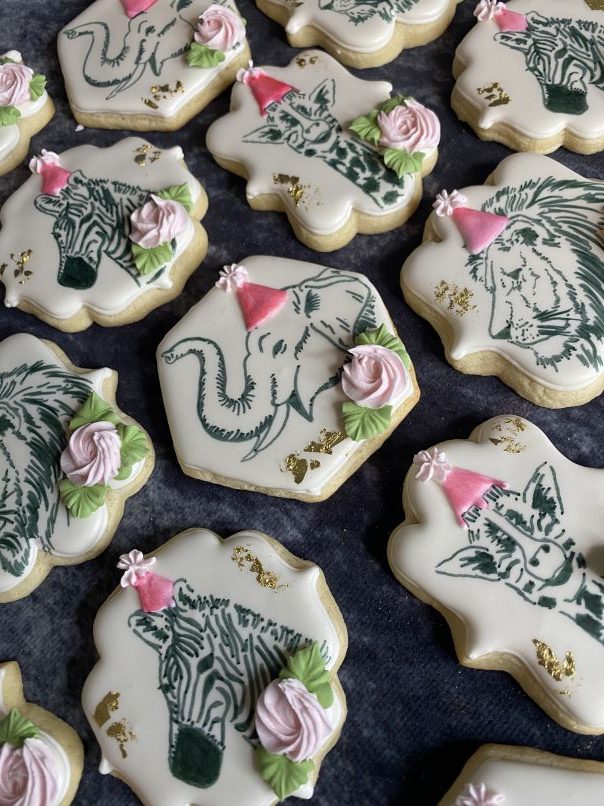 29 Jan

Beginner Tips to Creating Instagram Worthy Cookies!

Nothing is quite as show stopping as a stunningly decorated cookie. They are the talk of birthday parties, can be used for marketing, they make great gifts; the applications are endless. When I started decorating cookies a couple years ago, I relied solely on my natural artistic ability to get me by. Little did I know that there were little tips and adjustments I could have made to take my decorating game from a 2 to a 10 a LOT faster. This post is going to address the basis of decorating stunning cookies – the COOKIE!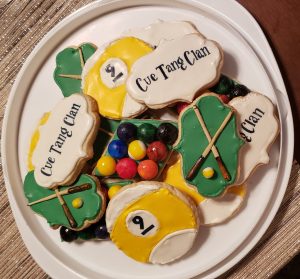 This was where I started out; my first set of cookies I ever decorated.  Not awful, but looking back it makes me cringe! The Achilles heel of decorating for me was watching my icing run over the edge of my cookies over and over and over again! Then I'm trying to clean them up and salvage my edges and my flood… it was a constant battle! So after trial and error, and a whole lot of research, I've compiled a few tips and tricks to get you started off on the right foot, and that's with creating the ideal canvas to decorate on! So whether you want to simply decorate some stunning cookies with your kids, or you want to start a little side hustle, keep reading and soak up the knowledge it took me a whole lot of tossed out cookies to acquire!
It all starts out with the dough. I've been tweaking our sugar cookie recipe for over a year, slowly adjusting the ratios to find the perfect balance between taste, shape and texture (cookie recipe post to come!). One of the more obvious tips is to reduce or even eliminate the amount of leavening agent in your recipe. Leavening is what causes the cookie to rise and puff up. When we are trying to get nice clean edges for our cut out shapes, this is a no no. We want to achieve smooth and sharp edges so that when we are applying royal icing, it will not run over the sides when you're flooding your cookie.
The next tip, and sometimes is counterintuitive, is to roll your dough out nice and thick! Lots of sugar cookie recipes call for you to roll your cookies out to 1/4″ thick. This works great if you're looking for a traditional crisp sugar cookie with minimal, rustic, or no decorations. However, since we are going to be looking for nice square edges for advanced decorating, don't skimp on the dough! I roll my dough out from anywhere between 1/2″ to 5/8″ thick!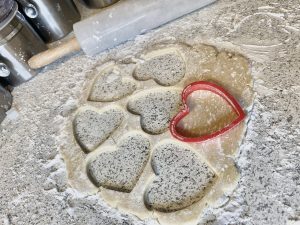 This rolls right into the next tip, which is freezing your cut cookies before baking. I roll out my dough when it is chilled, which of course makes cutting and transferring your shapes a lot easier. The goal of freezing, however, is to get the butter and other fats as solidified as possible. That way when the cookie bakes, the fat takes longer to melt and the result is less spreading! This ties back into cutting those thick cookies – it takes longer for the cookie to bake all the way through so less spreading and clean edges! In any conventional cookie recipe, the more butter, the more spread out your cookies are, and we've all been there, where you bake a pan of cookies and end up with one monster cookie! I typically freeze my cut out cookies anywhere from 15-30 minutes prior to throwing them into a piping hot oven. Do NOT overlook the freezing step, because it makes all the difference in the world. 
The next tip, and one that I shook my head at at first; when your cookies come out of the oven, use a fondant smoother to flatten and smooth the tops. We are talking a nice gentle pressure just to create a nice flat surface and square edges. You still need to be cautious because cookies are super tender and fragile when they are hot. The goal again here is that we are trying to create as level a surface as possible for decorating. If you haven't figured it out yet, flat cookies make for MUCH easier decorating!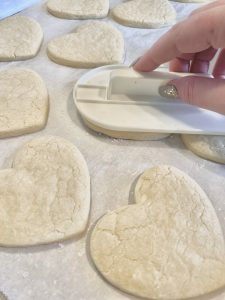 These are all gold nuggets I wish I had known when I started baking cookies. And I know, we haven't even talked about icing, right? I'm telling you, the basis of a beautifully decorated cookie is just that, the cookie! Check out my post on royal icing need-to-knows to dive even deeper into decorating like an absolute pro!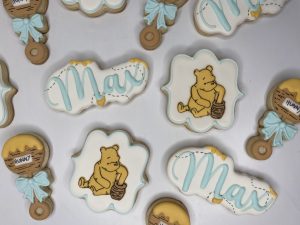 Until then, dig out those cookie cutters and get baking! 
Xoxo,
Leanne